Few months ago, a Canadian Samsung fan Shane Bennett contacted Samsung Canada on their Facebook account and asking for a free Galaxy S III because he has been a loyal customer of the brand for the past few years. In return for the phone, he attached a drawing of a fire breathing dragon that he drew.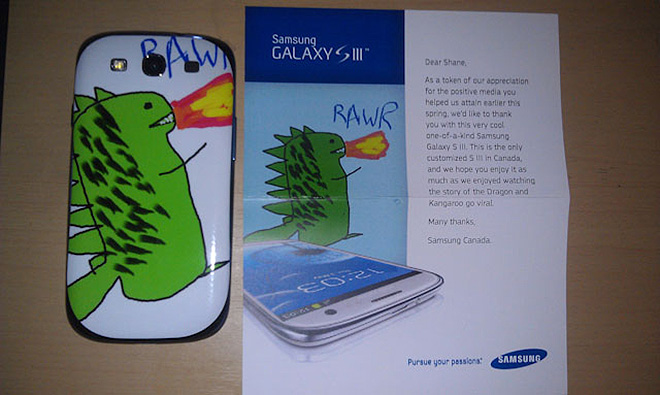 Of course, you can't get free things in return for drawings, which is why Samsung Canada politely declined but returned the gesture with a drawing of their own, a kangaroo on a unicycle. This led to a lot of positive publicity for Samsung after the image was posted on reddit and so eventually, they decided to not just invite Bennett to an exclusive Galaxy S III launch party but eventually send him a customized version of the phone, too.
It's a bit crazy just how customized this phone is. For starters, it comes with a cover for the box with the picture of the drawing that Bennett drew and sent to Samsung. Inside, you will find the phone that has the same dragon printed on the front and back cover. The drawing on the front looks confusing until you switch the phone on and find a custom wallpaper that completes the drawing. There is also a thank you note from Samsung for all the positive media coverage they received due to Bennett's picture being posted online.
It's a one-of-a-kind device, so there's no chance anyone else can get their hands on one of these. The rest of us will just have to choose from the four new and two old colors that are available to us.